IT-TA (aka ProRecruiter)
According to InterBizNet in 1999, "IT-TA invented the Resume Robot Marketplace". Tom Murray, CEO of IT-TA, approached Cykic in 1995 to build the technology to create a robot (or spider) to troll Internet job and recruiting databases, collecting resume and job data for IT-TA clients. These clients (including Intel, Deploy, ...) would configure specific requirements for their own personal robot to search for resume and job requirements. Hundreds of robots traversed the Internet daily collecting pertinent information for these clients.
The complete IT-TA (also known as ProRecruiter) package included:
Personal resume robot
Jobs database, with attached robot to find specific jobs
Resume database
Advanced search tools to find jobs and resumes
One of the earliest banner advertising schemes
Online chat
These robots ran for several years before IT-TA succumbed to the dot com bubble burst in 2000.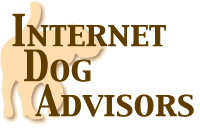 Internet Dog Advisors
Internet Dog Advisors was a spin-off project of MB-F (infodog.com). Cykic developed the site that would allow dog enthusiasts to find information regarding breeds, open their own personal store to sell dog products, find out what breed is best for you, and much more.